Harry Kane blew everyone and Romelu Lukaku away in the final two games of the season. The 23-year-old Englishman scored a remarkable 7 goals in two matches to wrest the Golden boot from the Everton man, who had looked the most likely by to claim the award.
Kane has now scored 75 Premier League goals in the last three years, unbelievable statistics for a player still not quite close to his best ability. The striker almost led Tottenham to the title but the club ultimately failed to usurp Chelsea, who won the league by an impressive 7 points.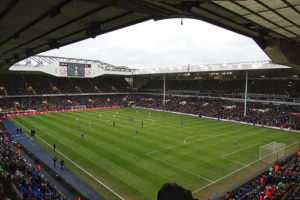 Harry Kane is the best thing to happen to Tottenham since Gareth Bale, and if the club don't want him to go the way of the Welshman, they must match his insatiable ambition.
Kane scored 29 goals and must be noticed all around Europe where a dearth of genuine goalscorers is becoming evident. There is a lack of world class finishers at the moment and every big club knows that a recognized goalscorer is needed to mount a serious assault on winning trophies.
The North London outfit are steadily becoming a big club in the country, with an impressive array of exceptional players and in Mauricio Pochettino, they have a manager that can rival any top coach in the whole of Europe.
However, Kane is the top drawer at the club. Still not 24, he offers the definition of the present and future, and must be kept at all costs to ensure the Tottenham project does not die before bearing fruit.
The North London outfit are moving to Wembley next season in anticipation of their move to their new stadium season after next, and with stable finances in the form of Premier League money, Champions League and potential increased match-day revenue.
His current deal of £120,000 a weak is nowhere near the bracket of the Premier League's best players. The likes of Real Madrid will be circling, but Tottenham must rebuff all offers until at least they win something with this bunch of talented players, a squad that brimming with confidence in all positions.
Kane has a chance of reaching 100 Premier League goals by next season, but he might get frustrated with failure to win, a goal most big players live to play for. They have provided him a platform to shine, but risk him outgrowing the club. They will hope that day never come, but they must recruit heavily to compete foe the major trophies.