Chelsea fans were delighted with the outcome at Wembley Stadium this afternoon. The match ended with a 1-2 win for the Blues over Tottenham, who were, ahead of the game, the favorites to win.
After the defeat to Burnley on the opening day of the season, Chelsea's coach Antonio Conte has cut a somewhat frustrated figure. With the media asking questions around Chelsea after the opening defeat, the departure of Nemanja Matic, and the turmoil around the Diego Costa affair, it's safe to say that the win was very welcomed by the Italian.
Please like our Facebook page to get all the latest updates!
Stunning Free Kick
The player opening up for the away teams win was 26-year old Marcos Alonso. With a stunning free kick in the 24th minute, the Spaniard put Chelsea ahead 0-1. The strike surely impressed a lot of people, and it definitely impressed a certain ex-United player and former assistant England Manager, Gary Neville.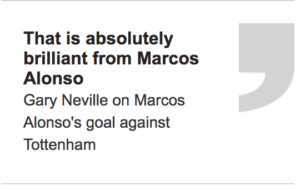 Neville went on to say: "It's absolutely brilliant and I think deserved." about the stunner in the 24th minute.
With less than 5 minutes left of the game, Alonso went onto score his second goal. Before the last goal of the match, Michy Batshuayi scored an own goal to equalize for the hosts.
Pochettino
As for the mentioned hosts, their manager Mauricio Pochettino said in a post match interview that he felt his side deserved a lot more today. He went on to say that he believed the Blues were just more clinical.
Chelsea are facing Everton in their next match on Sunday at Stamford Bridge.
Make sure to check out our new free bet section!