The year 2008 was a big one for Mathieu Flamini, but the three-cap France international's move from Arsenal to Milan looks set to be a mere footnote in his story.
After three seasons on the fringes at the Emirates, filling in gaps and failing to command a first-team place, Flamini finally hit his straps during the 2007/08 season, starting 30 times in the Premier League and forming an effective partnership with Cesc Fabregas.
The Gunners' 83-point haul from that campaign hasn't been matched in the decade since, nosediving to 72 in 2008/09 following Flamini and fellow midfielders Alexander Hleb, Gilberto Silva and Lassana Diarra's departures.
It seems the holding-mid found the going tough at Milan, with competition from the likes of Massimo Ambrosini, Gennaro Gattuso and Clarence Seedorf, plus a serious knee injury, limiting Flamini to just 32 starts over five Serie A seasons.
He does have one Scudetto medal from 2010/11 to show for his football efforts in the Rossoneri shirt, but an entirely different endeavour embarked on early in his Italian sojourn could see Flamini become a billionaire many times over very soon.
In November 2015, just over two years into his second spell at Arsenal, Flamini revealed that he put the F in GFBiochemicals (GFB) – a trailblazing green technology company that could go a long way to saving the planet.
Flamini set up Granata-Flamini Biochemicals alongside new friend Pasquale Granata within months of arriving in Milan, initially focussing on identifying sustainable alternatives to oil-based products by working closely with a group of chemical experts.
After pouring a ton of money into the venture, and with help from institutions such as the University of Pisa and Polytechnic University of Milan, GFB is now the 'only company to produce levulinic acid at commercial scale directly from biomass.'
Why is this important? Well, levulinic acid has been identified by the US Department of Energy as one of the 12 key molecules that could replace petrol, and even with a gas-guzzler like Donald Trump at the helm, the Americans want a piece of the action.
GFB's base in Caserta, 30 miles north of Naples, is the world's largest producer of the acid, a plant chemical that can be used to make environmentally-friendly fuels and plastics, among other things.
In an April 2016 BBC interview, Flamini revealed that GFB was on course to make 10,000 tons the following year, employing 80 people directly and a further 400 indirectly, and had seemingly cracked the U.S. market by acquiring Minnesota-based producer Segetis.
Just over four months ago, in an article entitled 'A Footballer Wants to Turn the World Green', Bloomberg reported news of GFB joining forces with biotech company American Process Inc.(API) to develop a cellulosic biorefinery.
The new plant will use cellulosic sugars produced at APIs Georgia biorefinery to make levulinic acid at a scale set to dwarf output at Caserta, with the companies' joint statement suggesting as much as 200,000 tons per year is achievable.
It's all a far cry from Flamini's last full outing in a football shirt, a 2-1 FA Cup third-round replay against Bolton with Crystal Palace back in January, but being clubless ahead of the new campaign, there might not be another act.
The 33-year-old doesn't appear to have officially retired since being released by the Eagles in June, after starting just three Premier League matches for Palace and appearing only 13 times in all competitions over the campaign.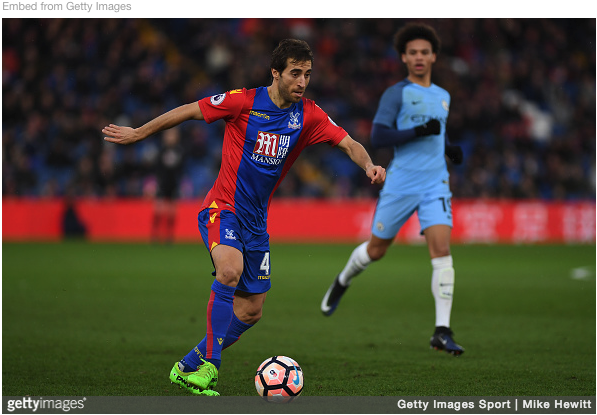 He certainly doesn't need the money, with the market for levulinic acid potentially worth anywhere between $10-$20 billion in the coming years, and GFB running the table.
As for motivation, Flamini was unequivocal in his interview with the Beeb last year, calling out climate change as 'the biggest problem of our time' and presenting GFB's biotechnology as a solution borne out of frustration and helplessness.
With that in mind, football watchers looking out for Flamini dropping down the leagues in search of rainy Thursday nights in Hull, Ipswich, Birmingham etc. will probably be disappointed.
That being said, if he rocks up at Napoli next season – or maybe Caserta's Serie C outfit Casertana – fans would be justified in thinking Flamini's mind might not be on football.